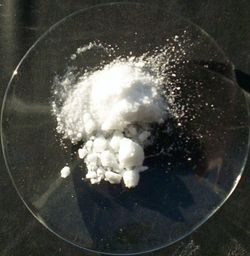 PROPERTIES
| | |
| --- | --- |
| Formula | NH4Cl |
| Description | White, Crystalline Powder, Odourless. |
| Solubility | Passes |
| Identification | Passes |
| Clarity & Colour Solution | Passes |
| PH of 5 % W/ V Solution | Passes 5.1 |
| Arsenic | Passes |
| Heavy Metals | Passes |
| Barium | Passes |
| Sulphate | Passes |
| Thiocyanate | Passes |
| Sulphated Ash | 1.15 % |
| Loss on drying | 0.25 % |
| Assay as NH4Cl (on dry basis) | 99.10 % |
| Packing | 50 Kg. Bags |
APPLICATION

For making albumin paper, coated paper used in photography; the coating is made of albumen (egg whites) and ammonium chloride.

albumen also spelled Albumin, light-sensitive paper prepared by coating with albumen, or egg white, and a salt (e.g., ammonium chloride) and sensitized by an aftertreatment with a solution of silver nitrate.
GRADES OF AMMONIUM CHLORIDE AND SPECIFICATIONS.
| | | | | |
| --- | --- | --- | --- | --- |
| CHARACTERISTIC | TECHNICAL FERTILISER | TECHNICALWHITE | PURE | EXTRA PURE |
| Assay % by wt. On dry basis | 95% min. | 98% min. | 99% min. | 99.5% min. |
| Moisture % by wt. max. | 4% max. | 1% max. | 1% max. | 0.5% max. |
| Iron in ppm max. | 100 | 50 | 20 | 10 |
| Sulphates as SO4 | 0.1% max. | 0.1% max. | 0.015% max. | 0.015% max |
| Total Sulphated residue on sublimation | ______ | 0.3% max | 0.3% max | 0.1% max |
| Phosphates as PO4 | ______ | ______ | ______ | 0.002% |
| PH | ______ | 4.5-5.2 | 4.5-5.2 | 4.5-5.2 |
| Matter insoluble in water | 0.2% max. | 0.1% max. | 0.05% max. | 0.05% max. |
| Heavy Metals as Pb | ______ | ______ | 20 ppm max. | 5 ppm max. |
| Arsenic | ______ | ______ | 1 ppm max. | 1 ppm max. |